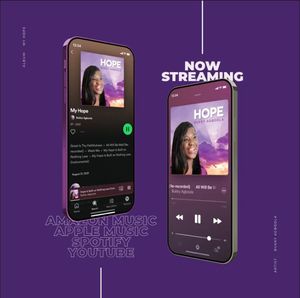 Bukky's Music Connects to God to Express Ultimate Love
Everyone wants Gospel music to sound as beautiful as possible since it is being played for the glory of God. It is the primary mission of the finest Christian musicians that they first grasp and understand the lyrics of the songs because only then can they spread the message with true emotions. When we listen to female gospel singer Bukky Agboola"s beautiful voice, we are attuned to worship which is blissful and everyone around feels One Body in Christ. 
Music as a Holistic Experience 
Bukky Agboola is among those prominent American gospel musicians who believe that music in worship should never be used for artistic self-promotion, but as a service to God. Her top Gospel music gives an honest confession of one"s faith. The lyrics touch the deepest of feelings and stimulate emotions, as they are voiced holistically out of the profound emotions. Those who listen to her, feel the vitality and connection of their souls and come back to her to renew their experience. 
The Power of the Voice 
Bukky"s powerful and soothing voice brings listeners closer to God where they can express their "Ultimate Love". Most of the time they start humming or singing along, and their identities merge into a sublime whole. While listening to Bukky live you would find her "elevated" to the status of one of the the finest Gospel vocalists. The lyrics of her songs combined with heart-touching messages; bring about certain feelings that are difficult to transcribe in words. Bukky"s music is mostly experienced as a special source of power: a power that lets one attune to larger groups and higher orders, can change minds, and thus has a deep effect on minds and souls. 
Music that Connects to God 
Bukky"s music becomes the carrier of sentiments about God and the love for God. She helps us understand the reality of God and emotionally supports the turning to God. Her musical services create a meditative atmosphere that purifies its listeners and connects with Him. The feelings of happiness and the experience of God"s presence around us flow into one another. Her music becomes itself directly the medium of experiencing divinity closer to us. 
Experience Bukky's Unique Performance 
Bukky Agboola has already earned a place as one of the finest female Gospel singers around. Her versatile personality comprises an award-winning gospel singer and author, and a sought-after speaker. She can captivate any audience with her mesmerizing voice and charismatic personality. Bukky is available to sing music from any of her recorded albums and beyond. Learn more about American gospel musician Bukky Agboola and the legacy of her music by visiting the Bukky Bio page. You can also contact this top female Christian music artist Bukky Agboola by filling out the online form and leaving a personal 
message for her..
Comments
"It was a moment of blessing listening and seeing you  minister from your heart with purity and verity" 
-Pastor Segun O. Nigeria
"Your vocals are awesome - such a great singer and I could listen for hours. " 
-Michael, USA.
"What a rich voice! Well done!! I really enjoyed this!"
-Sam S. USA  
"The expression in your singing is beautiful!"
-Lexi. USA 
Download one of my songs for FREE!
Let's Keep Our Hopes Up! Download Now
MY HOPE ALBUM COMMENTS
"I have been listening to your new album quite often and each time experience God's touch. The vocals, lyrics and rhythm are a divine blend that inspires, invigorates and solidifies faith in Jesus Christ. Marvelous work! Thank you."
-Greg, USA.
"Your songs have lifted me up and they're one of the ones I listen to when I do the long drive to and from work  Excited to include them in our play list in the car. Thanks so much!"
-Mrs O. Nevada. USA
 All Will Be Well (Re-recorded) Comments
"I love loved the message of this song. It is full of hope and celebration. I loved the style of it too. It had such a great rhythm."
- Trevor. USA
"Hello I heard your song . The best part of this song is this vocal. This vocalist has very good vocal skills, especially in a strong voice that expresses the softness very well I would like to share this song Thank you"
-Tata. USA
"Awesome! May God's grace be marvelously multiplied to you!"
-O Olawunmi. California, USA 
"Nicely done! Will add it to my playlist."
-Mrs D. Canada 
Great Is Thy Faithfulness Comments
"This is one of the most beautiful songs in Christian music. Your voice is so melodious"
- Sussette. USA. 
 
 "Will definitely share it with our group"
-Pastor Tony O. USA.
"I love the hymn my Hope is Built. I remember singing it at church. Congratulations on your new album"
-LaVonda M. Germany.
Nipa Ife Olugbala (All Will Be Well Yoruba African Version)
Comments
 "This is my favourite song and also my ringtone"
O Koyejo
"Thanks Bukky blessed by this song"
S Vaughan
"I've played this over & over again. It's a balm to the soul. Please, please do more of the hymns."
M Owotu
"Thanks, Bukky, this song is a blessing to me at this time. Your singing really brings out the truth of the words in the song. "Ojo ola yio dara". Amen. Thank you again and God bless." 
T Agbesanwa. 
"...This rendition is the best! It will be nice to listen to many more hymns in the Yoruba Language"  
Adebiyi T.
More All Will Be Well Song Comments
"She is one amazing singer. When I listened to her singing, I felt so calm and happy. Beautiful voice. Just loved it."  -S Patel, USA.  
"I just listened to the CD on my way to work today.  The songs are beautiful.  The singer has a beautiful voice. It includes one of my favorite songs that we haven't sang in Church for a while...."   "  — Hiam  M,. California , USA
"All will Be Well Audio CD   Dear Bukky, Thank You For Your Amazing CD. I Love Listening To It As I Drive To And From Work Each Day. It Brings Joy And Serenity, So Needed For The Long Drive!!..." —Carol L. California. USA